Spanish teaching methods at Expanish
A communicative approach focused on our students' needs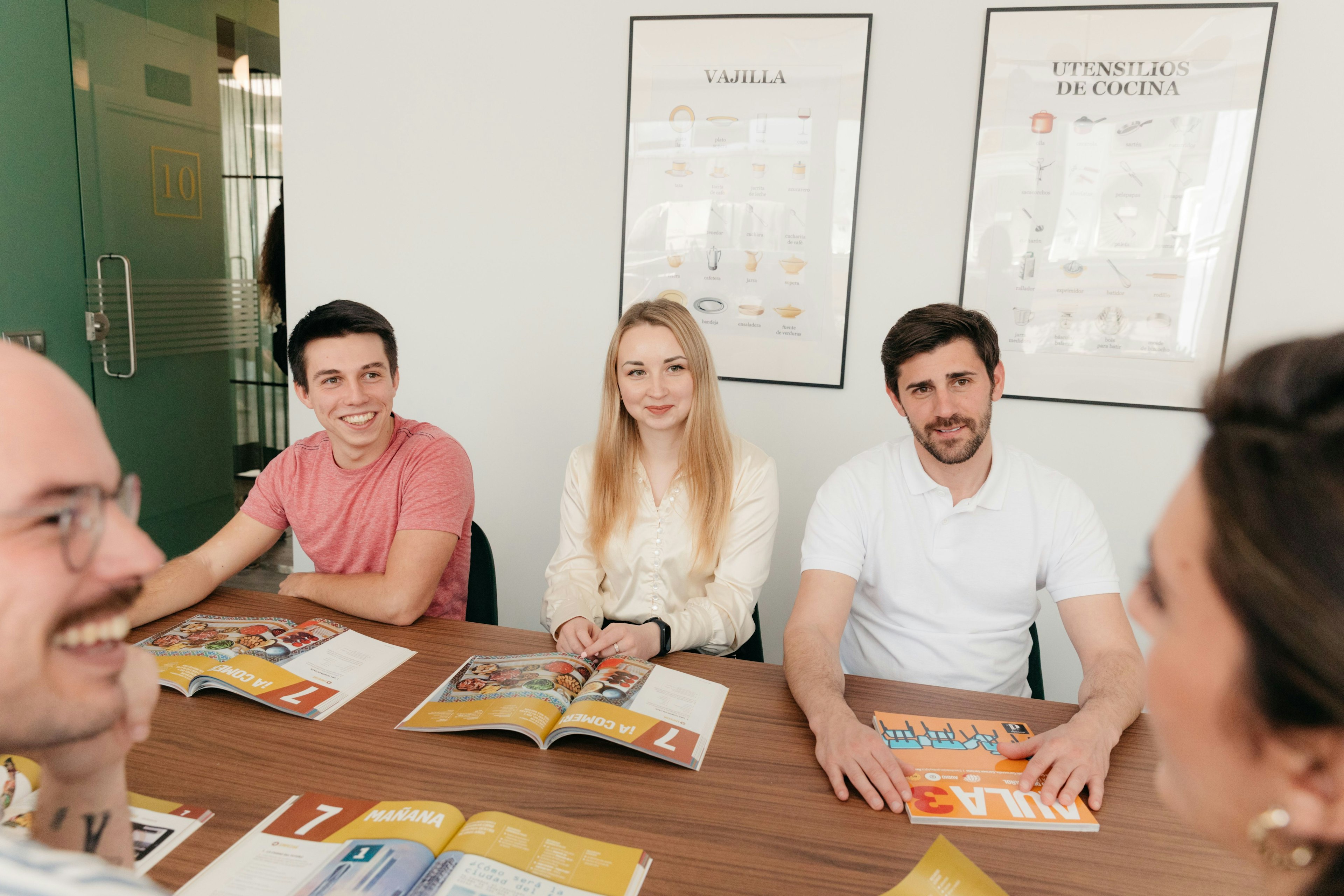 The Communicative Approach to teaching Spanish
Expanish uses the Communicative Approach to language teaching, emphasizing the continuous use of Spanish in order to encourage well-rounded progress. We encourage students to interact and speak in Spanish with teachers and peers alike from day one, giving everyone the opportunity to use the language practically in a variety of contexts.
At Expanish, our qualified teachers help students learn the language by exploring Spanish culture, current affairs, sports, dance, art, human rights, and business. Our Spanish teaching methods, as well as our teachers, are focused on advancing the Spanish language skills of every student in a welcoming and effective learning environment.
The four key language skills
Spanish classes at Expanish use a teaching methodology that develops all four key language skills: writing, reading, speaking and listening. Students will advance in all four areas through a variety of exercises, classroom discussions, multimedia interactions, and practical applications. We strongly believe these Spanish teaching methods offer the best way to improve language proficiency, giving students the tools and confidence to learn through active communication rather than by memorizing textbooks.
The chart below represents typical Spanish language advancement through all recognized levels of proficiency, from A1 (Beginner) to C2 (Advanced/fluent). The chart shows the suggested number of weeks that students will require to progress to each subsequent level. Throughout the levels, Expanish maintains a flexible approach, as our Spanish teaching methods adapt to the learning needs and strengths of each group. The actual speed at which a class advances is therefore determined in part by the group dynamic, with students making progress together.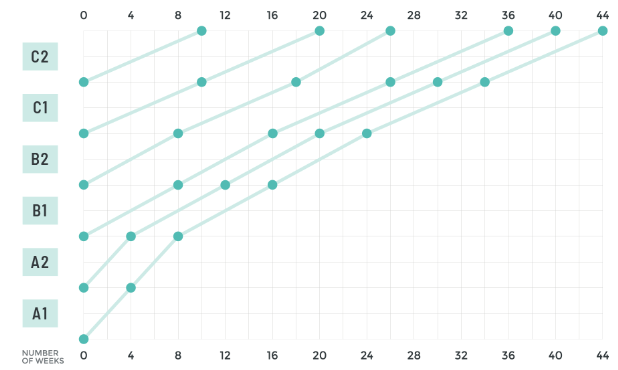 Below we outline what each level certifies in terms of Spanish language proficiency.
C2 – Master of Proficiency: The student can understand practically everything they hear or read; can understand how to restructure arguments and information from a variety of sources as well as present them in a coherent and correct manner; can express themselves precisely and fluently, with a firm grasp of the nuances of the language.

C1 – Advanced: The student is able to recognize implicit meanings and understand complex texts; is able to effectively use the language for social, professional and academic purposes; and can express themselves easily with fluidity and produce clear, well-structured text on a variety of subjects.

B2 – Upper Intermediate: The student has no difficulty in understanding the main ideas of complex texts; has the ability to produce detailed, clear texts on different topics and defend their point of view; and can interact with other people without too much difficulty.

B1 – Intermediate: The student is able to comprehend the main points of what they read and hear in straight-forward language; is able to produce simple, coherent written texts; and can handle most situations that might arise in daily life.

A2 – Elementary: The student is able to understand and use common expressions; can navigate simple, day-to-day tasks through direct interaction; can describe their own actions (past and present), physical surroundings, and immediate needs in simple terms.

A1 – Beginner: The student is able to articulate and understand simple, everyday expressions and phrases designed to satisfy immediate needs; can provide and ask for basic information about themselves; can communicate with other Spanish-speakers that speak slowly and are willing to help.
The Complete immersive experience
Expanish recognizes that studying in a Spanish-speaking country is the most effective way to achieve proficiency in the Spanish language while also gaining a nuanced understanding of how it is used in daily life. By immersing yourself in the language and navigating real-life situations in it, you will gain more confidence in both your Spanish and your broader communication skills.
To facilitate Spanish speaking outside of the classroom, we offer the following activities:
Interactive programs throughout the week;

Excursions during classes to local places around the city, such as traditional cafés, museums, and historic sights that complement our teaching material;

Homestays with Spanish-speaking families or shared accommodation with other Spanish speakers;

Homework tasks designed to ensure students are using and practicing grammar and vocabulary skills.
You will quickly find that the best way to maximize development throughout your time at Expanish is speaking to classmates, homestay families, and other locals as much as you can. We also encourage our students to read Spanish books and news articles, watch local television shows and movies, and listen to Spanish-language podcasts, songs, and local radio stations.
Small study groups
Students learn better when they feel confident and comfortable, which is why we offer small group classes consisting of an average of 7 students. Our small study groups allow for more personalized attention in a relaxed and comfortable environment, which allows the students to feel confident when practicing Spanish aloud.
All of our Spanish programs are aligned with and based on the curriculum of the Cervantes Institute, a government organization for promoting the study and the teaching of Spanish around the world. Our teaching plans are also based on the framework provided by the Common European Framework of Reference for Languages.
Professional teachers
Expanish recruits the best Spanish teachers to ensure our courses meet high standards for quality. Our teachers are all native Spanish speakers that are professional, dynamic and passionate about what they teach. They provide students with continuous support and feedback to help them progress as far as possible in the least amount of time.
Teacher-created learning materials
The education materials provided by Expanish have been designed page by page by our very own teachers, academic support team and students. We are proud to offer materials that offer learning opportunities based on everyday situations that might occur in Spain and Argentina, with lessons including local slang and expressions to help students assimilate.
Our materials are specifically designed for each language level: from A1 (Beginner) to C2 (Master of Proficiency). For each level our teachers have prepared in-class activities and tasks as well as assessments and vocabulary sheets for additional practice outside of school. These stimulating and challenging materials are included in the price of your program, so you can take them with you and continue your studies as you travel or after returning home.
Teaching at Expanish - FAQs