Join over 20k students who have studied at our Spanish schools
We're recognized for academic excellence in education
Learn Spanish, experience so much more
Our immersive Spanish courses are not just about learning new language skills. They open the door to a whole new cultural and social experience that you will never forget.
Learn the language
Improve your Spanish in dynamic classes led by our qualified, native teachers.
Meet new people
Shape unforgettable memories with other students from all over the world.
Enjoy Hispanic culture
Learn about the history and culture of our host cities in Spain and Argentina.
Live like a local
Become a part of the local community living with a host family or other students.
Learn quickly and make new friends as an Expanish student
Our Spanish schools are places to enjoy with others. Make use of welcoming common areas to strike up a conversation, share a coffee and practise everything you learn in class.
Learning Spanish is more rewarding when you're immersed in the local culture. With our Spanish courses you walk into another way of life and come away with more than a new language.
Join our free social activities to make new friends while learning about the local culture. Visit museums, join workshops or enjoy the nightlife - there's something for everyone.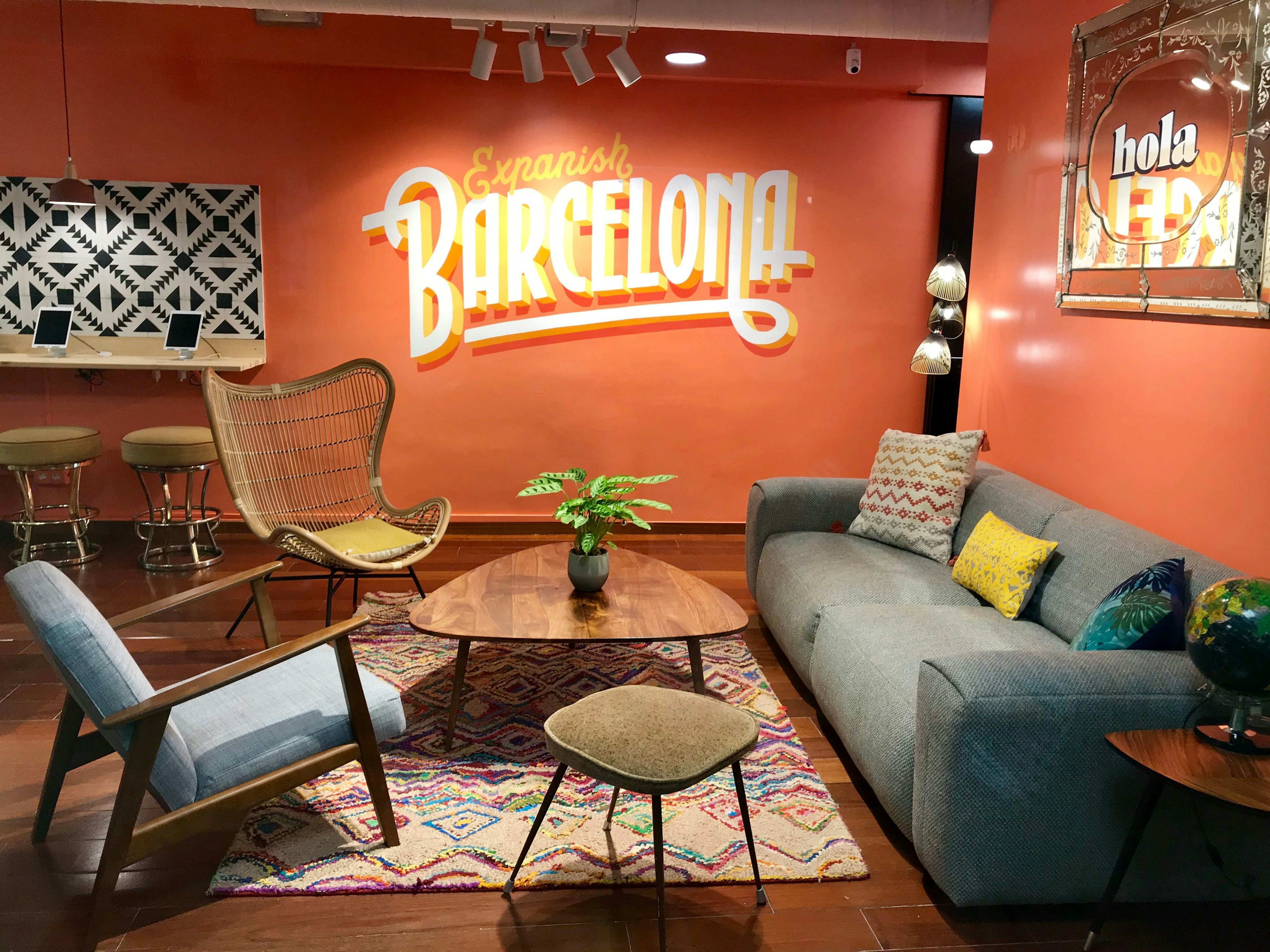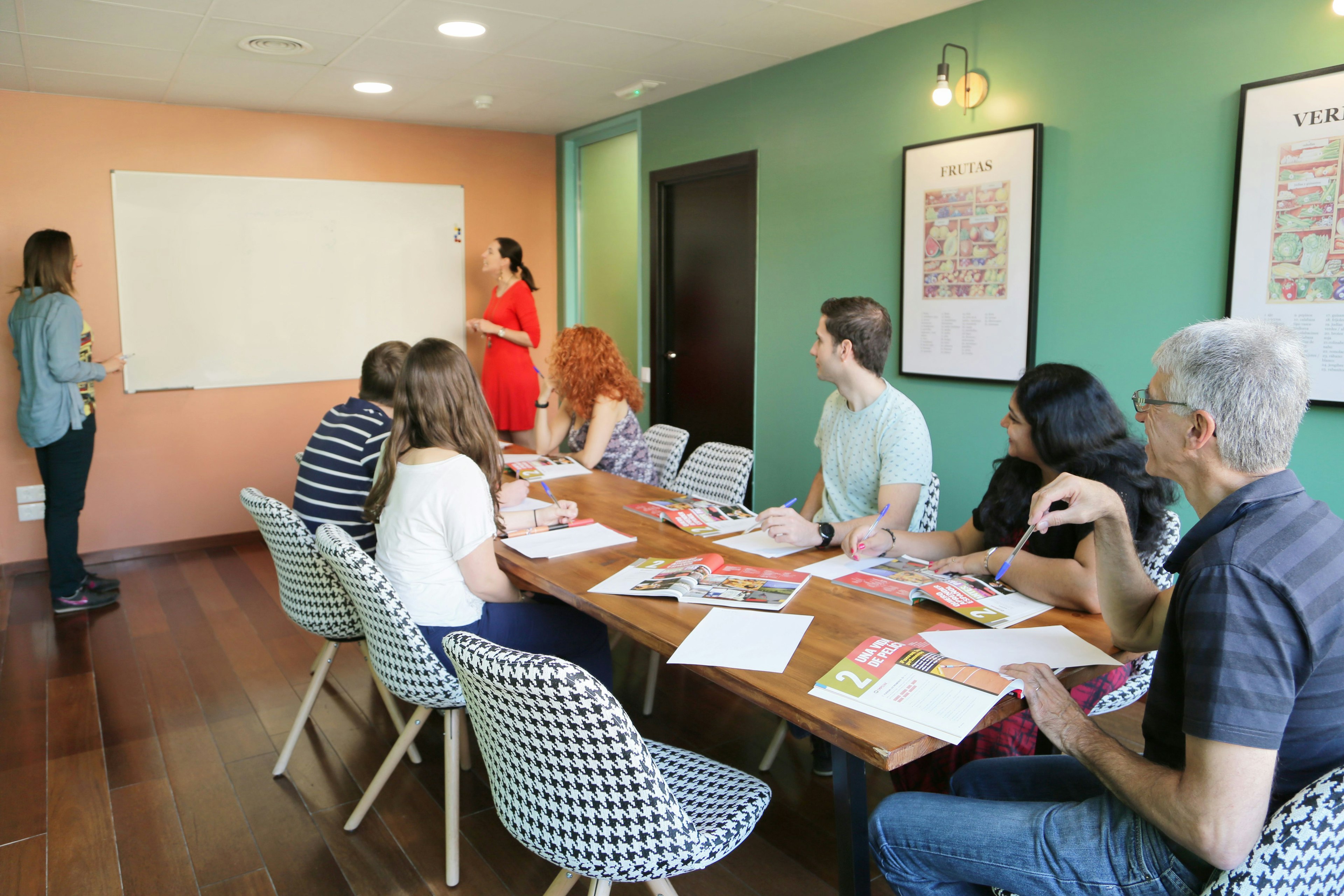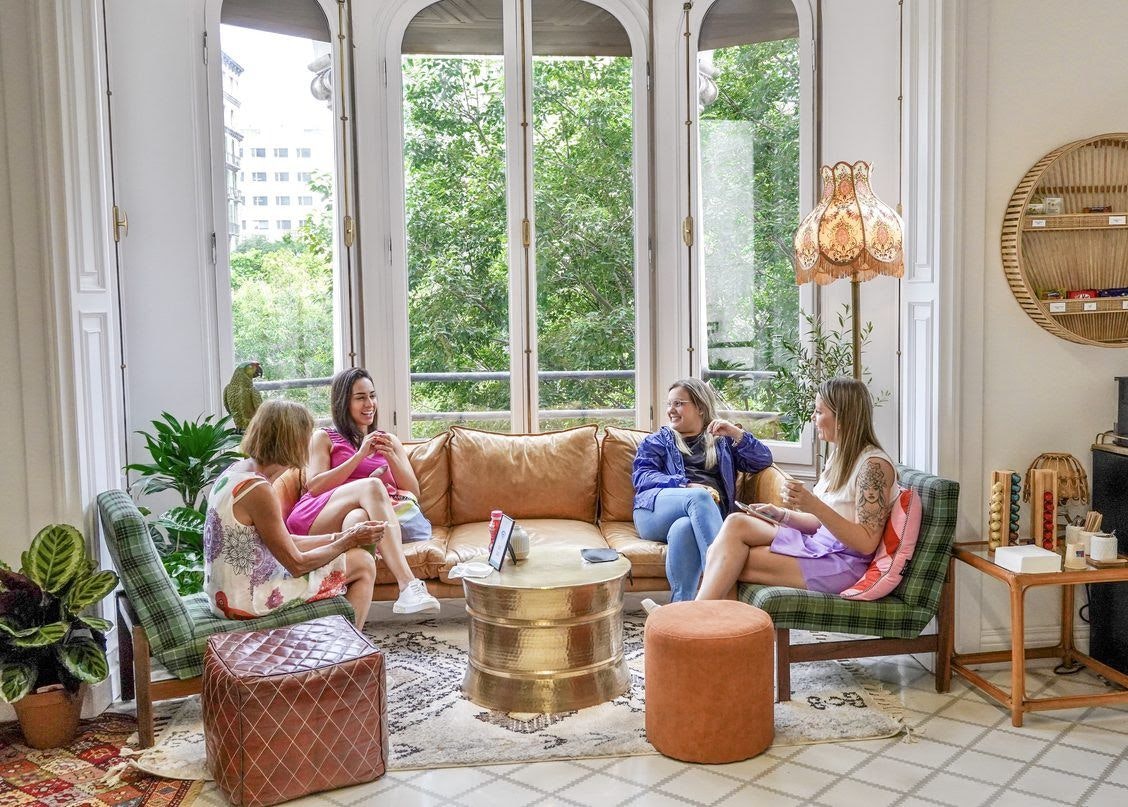 Choose a Spanish language course in Argentina or Spain
Beginner or expert, find a course that's right for you
Group Spanish Classes - 20 per week
Most popular
The 20-lesson plan is our most popular intensive Spanish course in Barcelona, with four Spanish classes a day to help you quickly improve your language skills.
Group Spanish Classes - 30 per week
The 30-lesson Spanish course is the most comprehensive study option, encouraging fast learning with 4 group Spanish language classes and 2 daily Spanish conversation classes per day.
Get the full support of an experienced tutor at our Spanish school in Barcelona with lessons that are tailor-made to your personal goals.
Become a true local with a long-term Spanish course in Barcelona, a perfect choice if you plan to work or study in Spain. Includes access to professional workshops and support for visa documents.
Combined Course - 20 Group Spanish Classes + 4 to 10 Private Lessons
20 group + 4 to 10 private
The best of both worlds. Complemente 20 Spanish group classes in Barcelona with 4 to 10 private classes per week to focus on the language skills and vocabulary that matter most to you.
2 nights a week, 2 hours each
If you're living or working in the city, brush up your language skills with our evening Spanish classes from 7pm to 9pm.
A practical way for students to study Spanish
We are focused on our students' education needs. Our Spanish language course will help you improve your vocabulary and give you the confidence to deal with real world situations.
We encourage our students to use Spanish from day one at our schools
A communicative approach is key to teaching at our Spanish school.
Small study groups, with an average of 7 students in our Spanish lessons
Every student can actively participate in classes at our language schools.
We teach our students about local expressions, traditions and culture
At our school you will learn how to speak like a local in everyday situations.
What our students say when they learn Spanish with us

We loved our classes at Expanish! It was one of the highlights of our trip to be able to refine our Spanish skills while being in Spain. I took private lessons with my 3 kids. The teachers and staff were all so kind. They were very understanding when we were running late too!

I really enjoyed my time learning. I found it provided me a good base but it is all about practice as well of course
My experience with Expanish was really great, I improved my Spanish skills and I was able to immerse in local culture; great atmosphere, welcoming staff and professional teachers!
Small classes, excellent teachers, the style of teaching works... :)), break at the right moments, interesting activities in the afternoon, pleasant atmosphere.

The place is really cool, filled with young people and a great atmosphere to learn a new language! The teachers are very good and when you are in class you don't see time pass and don't get bored at all because you will do also group activities, play games, watch movies, all of this while learning and you would be surprised of the progress you make in a very short time!

My experience at Expanish has been excellent. the school building is very central (a few steps from Casa Rosada and the Kirchner cultural center) and easily accessible by metro, the teachers and employees are super nice (secretaries above all). In addition, the school found me accommodation in Belgrano, one of the most luxurious neighborhoods in Buenos Aires. An experience that I recommend to everyone also because Buenos Aires is a fabulous and very animated city. In addition, Argentinians are truly a welcoming people especially with us Italians.
Awesome! Great staff and very nice place!
Very good school, small and personal. I learned a lot during this two weeks. The classes were a good combination of theory and practice. I would defenitely recommend Expanish!

Very fun and friendly teachers, that create a very good learning atmosphere!
James Henderson
Tripadvisor
United Kingdom
Super nice and relaxed atmosphere and the staff are always there to help. It's easy to make friends and the whole setup is great for learning and for socialising. Would also highly recommend a home stay. Amazing experience!
The school is great - everyone there is really kind and supportive. The teachers are competent and the organisation is great. I will definitely come again.
I spent almost 6 months in this institute (Expanish). Frankly, there was not a single day boring for me. I started with zero idea of Spanish and after the period, I am so amazed as I begin Studies in the university in Cordoba. They have many strategies and better experience for learning Spanish. I was totally overwhelmed by their teaching strategies. And because I was there for a long period, I experienced many professors with good and distinct methods. I was so fascinated by the method of profesor Carlos, profesoras Sandra, Rosana, and Cecilia. I must say that, Expanish did not only made me to understand Spanish but also to know very well the culture, the people and many places in Argentina with their extra organized programs every week. Administratively, they are excellent with always attention for the students, their well being, good environment and modern classrooms and better options to learn Spanish faster and easier. God bless you Gabriel, Coordinator of the institute. Gracias Expanish
Read more student reviews
Google
---
1189 reviews
TripAdvisor
---
357 reviews
Trustpilot
---
142 reviews