Testimonials of students at Expanish
What our students say about us
The quality of our customer service is really important to us as we strive to offer all students a memorable study abroad experience. But don't take our word for it - take a look at what our previous students have to say about their experiences at Expanish. Read these Spanish Student Testimonials and then live your own adventure with one of our Spanish courses.
Have a look at what our students say about the Expanish experience
Google
---
1014 reviews
TripAdvisor
---
354 reviews
Trustpilot
---
142 reviews
Barcelona

We loved our classes at Expanish! It was one of the highlights of our trip to be able to refine our Spanish skills while being in Spain. I took private lessons with my 3 kids. The teachers and staff were all so kind. They were very understanding when we were running late too!

Super recommended! I've been enrolled for the Evening course, 2 times per week, and I really enjoyed it. We had 2 different teachers, my fav one is Miguel - we had so much fun during our lectures and his way of teaching has always been very engaging and entertaining! The school itself is nice too, very pretty and well located. I'll be back soon!

The place is really cool, filled with young people and a great atmosphere to learn a new language! The teachers are very good and when you are in class you don't see time pass and don't get bored at all because you will do also group activities, play games, watch movies, all of this while learning and you would be surprised of the progress you make in a very short time!

My experience was amazing! The teachers are great! I did improve my Spanish, meet people from all over the world and enjoyed a lot with all of them.

I joined the intensive B1 course, where I had the chance to meet several great teachers with diverse attention to grammar, phonetics, speaking, writing etc. I can only recommend the school as everybody is very flexible and attentive.

Great School, very helpful and friendly Staff. Also the Teachers are super nice and the lessons are very professional. I had a great time here and can highly recommend this school :)
Madrid

I totally recommend Expanish School! I learned a lot in a very short time and everyone here is friendly and very helpful! 5 stars out of 5 🙌
The school is great - everyone there is really kind and supportive. The teachers are competent and the organisation is great. I will definitely come again.
Small classes, excellent teachers, the style of teaching works... :)), break at the right moments, interesting activities in the afternoon, pleasant atmosphere.
Very good school, small and personal. I learned a lot during this two weeks. The classes were a good combination of theory and practice. I would defenitely recommend Expanish!
I had the best experience at Expanish! Level of teaching, organized, helpful, caring, flexible are just a few positive words with this school! I really recommend this language school!

Expanish is great! I learned so much and everyone is so friendly. The teachers are very experienced and have so much knowledge. They also take their time in explaining everything to make sure you understand and learn. I would recommend this to anyone who wants to learn Spanish at any level!
Buenos Aires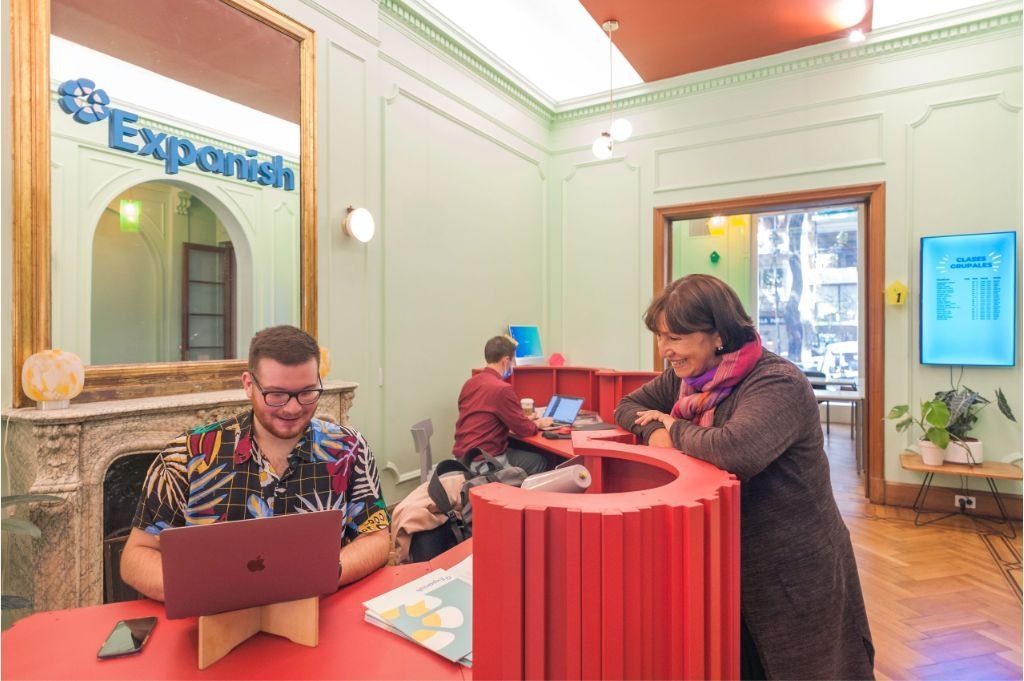 My experience at Expanish has been excellent. the school building is very central (a few steps from Casa Rosada and the Kirchner cultural center) and easily accessible by metro, the teachers and employees are super nice (secretaries above all). In addition, the school found me accommodation in Belgrano, one of the most luxurious neighborhoods in Buenos Aires. An experience that I recommend to everyone also because Buenos Aires is a fabulous and very animated city. In addition, Argentinians are truly a welcoming people especially with us Italians.

EXCEPTIONAL EXPERIENCE!!! ♥︎ I've been studying at Expanish for 3 weeks and it has been such an incredible experience. The teachers, the staff and even the principal have helped me through my learning journey with their tenderness, love of teaching and professionalism. The school was built in a magnificent house with bright rooms and a large garden where students can meet to share mates and smiles. It is also a great way to meet people from all over the world while sharing your love of languages. I would give it a review of 10/5 stars if I could. Merci Gabriel, Liliana, Sonia, Pablo and Carlos for your brilliant work. Un abrazo, Tilda
I'm Kyoko Utsumi Japanese and deaf. When I studied at a school "Expanish", the teaching staffs were great "Be positive is everything ". The school has two schools (Barcelona and Buenos Aires), so I wanted to study in the Buenos Aires school. It's very fashionable and cozy. Argentina's Spanish is slightly different from the Spanish of other countries. I can enjoy the difference. It was a wonderful school as expected. The staffs and teachers were perfect. The classmates were also friendly and kind. I had a meaningful school life. Me encanta Argentina. Gracias Kyoko

I've had an amazing two months with Expanish, where I learned all of my Spanish. They always try to the best job they can and I really enjoyed it. I would definitely recommend other people to choose Expanish as well!

I had an amazing 3 weeks experience at Expanish. Everything was perfect. The facilities are great; the school is at a great location, with good and easy access to everywhere; free activities are good and teachers are patient and dedicated; teacher Pablo has very good didactic, gives attention to each student according to their needs, and makes learning fun - excellent; Gabriel, the director, is so kind and always there ready to help and provide what is needed. I found the written and online evaluations of the language level very well done. Yet they continue the evaluation in class and when people are not comfortable or not in the right place, they are quick to relocate the student. I hope to be able to return and continue my studies at Expanish.

I studied for 2 weeks at Expanish taking an intensive course (20h group + 5h private class). I really enjoyed my time at Expanish. It is easy to meet new people & practice Spanish due to the many activities organized. The teachers are very motivated and I improved my Spanish skills a lot.