10 Reasons to Fall In Love with Barcelona
If you're on the fence for learning Spanish abroad in Barcelona, you may have noticed that there is a lot of buzz about this marvelous city, and for good reason. A lot has been said about the Mediterranean beach city but nothing really compares to experiencing all the great Catalonian capital has to offer. Learning Spanish abroad in Barcelona is the perfect opportunity to meet people from all over the world and have a one-of-a-kind Spanish experience. Here are the top ten reasons to fall in love with Barcelona while studying Spanish abroad.

The City That Has It All

This is the general feeling about Barcelona, it really is a city that has something for everyone. When going to Barcelona to learn Spanish, everyone will congratulate you on your excellent decision even before leaving your hometown. And they're not joking, you just selected one of the most exciting cities in Spain to study Spanish.

The Diversity

Barcelona is known for being a melting pot of cultures and languages, and it sure lives up to the expectation. It is the biggest city on the Mediterranean coast, and is home to a lively and diverse community. With approximately 1.6 million people living in Barcelona, the city prides itself on being human in scale without losing a beat in its cultural diversity. Learning Spanish is the perfect opportunity to experience this culture and vibrant city like a local.

The Food

Barcelona prides itself on having one of the most thriving foodie cultures in the world. From traditional mediterranean cuisine to cutting edge fusion, Barcelona has it all. Whether you're feeling more in the mood for a €3 meal or perhaps a Michelin Star restaurant, the Spanish you learn at Expanish will help you to order and chatter among locals like a native. And let's not forget Spain's famous tapas, what better motivation to learn Spanish than the goal of seamlessly ordering another round of delicious tortilla de patatas?

The Drinks

In a country that has a bar for every 180 people (give or take), great things are to be expected in the beverage department. Barcelona, of course, doesn't disappoint in this area. In fact, it takes things up a notch with vibrant beers, wines, and cocktail scenes. If you'd rather skip the alcohol, Barcelona has some amazing cold-press juicing establishments that will knock your socks off.

The Amazing Weather

It might be a bit cliché to point this out, but with an average of 310 sunny days a year, Barcelona takes the cake when it comes to pleasant weather. The summer heat doesn't reach the stifling highs of other places and the winter chill is just that, a chill and not a real cold. The city boasts some of the sweetest springs and mellow autumns, there really is no unpleasant season in this city. The beautiful weather makes studying Spanish out in a park or on the beach seem like the perfect vacation.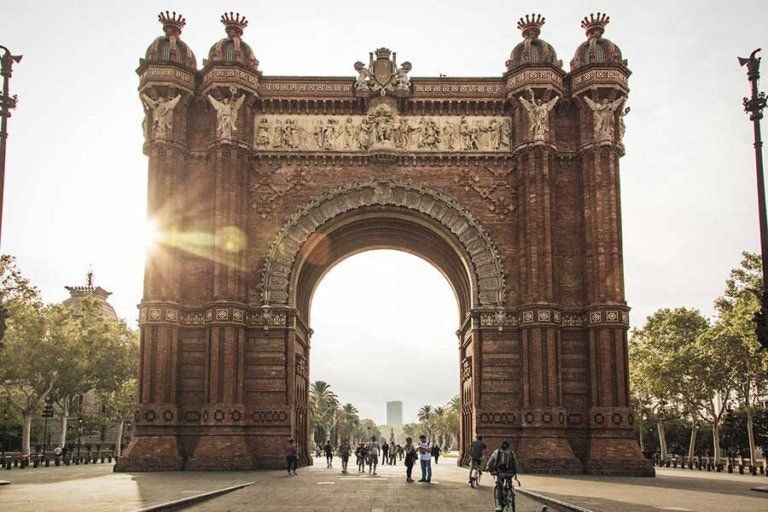 Traveling Without Moving (Almost)

Barcelona is so much more than a complex ecosystem of quarters and streets. Yes, if you stay in the urban heart of the city, you might find that one minute you're surrounded by the look and feel of Medieval Europe and the next minute you're staring at world-renowned contemporary architecture.But it doesn't take more than a few minutes walk to find yourself on the beautiful beach by the Mediterranean sea, or in the midst of a beautiful, lush forest.

Few cities in the world are surrounded by such a wide array of weekend getaways and day trips. Where you are in Barcelona, only a short trip of probably an hour (or less) separates you and your next adventure.

The Cultural Powerhouse

Whatever your hobbies or interests, Barcelona provides a constant stream of lively entertainment. If well-established, institutional cultural centers and museums are not your thing, the city offers a huge variety of events and activities to keep your mind, and spirit, active while you learn Spanish. If you're not sure where to begin, don't hesitate to ask any of the Expanish team. They'll know all the best places to visit and things happening in the city.

The Growing Expat Community

In the past decade, Barcelona has seen its expat community grow exponentially. Most likely due to the combination of perks the city has to offer, this allows the community to grow and open its doors to more cultures and languages. As a result of the expat population boom, it's not uncommon to meet people from all around the world that have chosen Barcelona as the perfect place to follow their heart's desire.

The Feeling that Everything is Possible

For a city that has over 2,000 years of history, Barcelona is a place that embraces change and the future. This same spirit existed for the 1992 Olympics and with the inventive geniuses like Picasso and Dalí. Somehow, the positivity in the city translates into an atmosphere of sheer possibility that is hard to find in other cities. When you learn Spanish in Barcelona, you can feel the spirit, electric in the air.

The Magnificent City Always Delivers

For anyway who's ever been in the city, it's hard to find one that felt disappointed with their experience. There is a universal appeal to Barcelona in the way that everything that happens in the city seems to conspire to make you happy with your experience abroad.
Whatever your reasons for studying Spanish abroad, Barcelona is an unforgettable city. Whether it be food, drinks, accessibility, architecture, or others, you definitely won't be disappointed with your decision to explore this majestic city.