How to Make Your Money Go Further While in Argentina
Argentina's unofficial exchange rate – known locally as the 'dólar blue' - is currently around double the official exchange rate, which can dramatically lower your cost of living if you're studying Spanish in Buenos Aires. Here's what you need to know to make your money go further while in Argentina.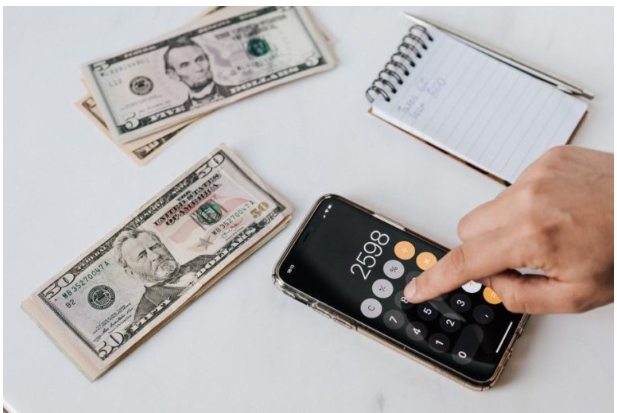 *This article was last updated in May 2023.
Those who visit Argentina will find their dollars or euros go a long way these days. When the government shut borders in March 2020, one US dollar was worth around 60 pesos – as of May 2023 it's around 230 pesos.
According to money.co.uk, Argentina is currently among the five countries in the world with the lowest cost of living. And Buenos Aires is the second most affordable city in the world to relocate to. Just recently, an English teacher in Buenos Aires went viral after making a TikTok video showing the things you can buy with US$5 in Argentina.
But there's even more to it than this. Argentina's unofficial exchange rate – known locally as the 'dólar blue' – currently stands at around 470 pesos to the dollar. That means each US dollar you hold can be worth twice as much in peso terms if you understand the dos and don'ts of changing money while in Argentina. We'll get to that, but first some background on how this came to be.
Understand Argentina's multiple exchange rates
Given Argentina's history of banking crises, currency devaluations and persistently high inflation many locals prefer to convert their pesos into US dollars to protect their savings. But government restrictions in place since 2019 can make this difficult to do via official channels like banks. This has resulted in the widespread use of the unofficial currency market, where dollars or euros can be bought easily but at a premium. On the other side of the equation, anyone selling dollars in this black (or 'blue') market can dramatically reduce their cost of living in Argentina.
The (rough) cost of basic goods and services in Buenos Aires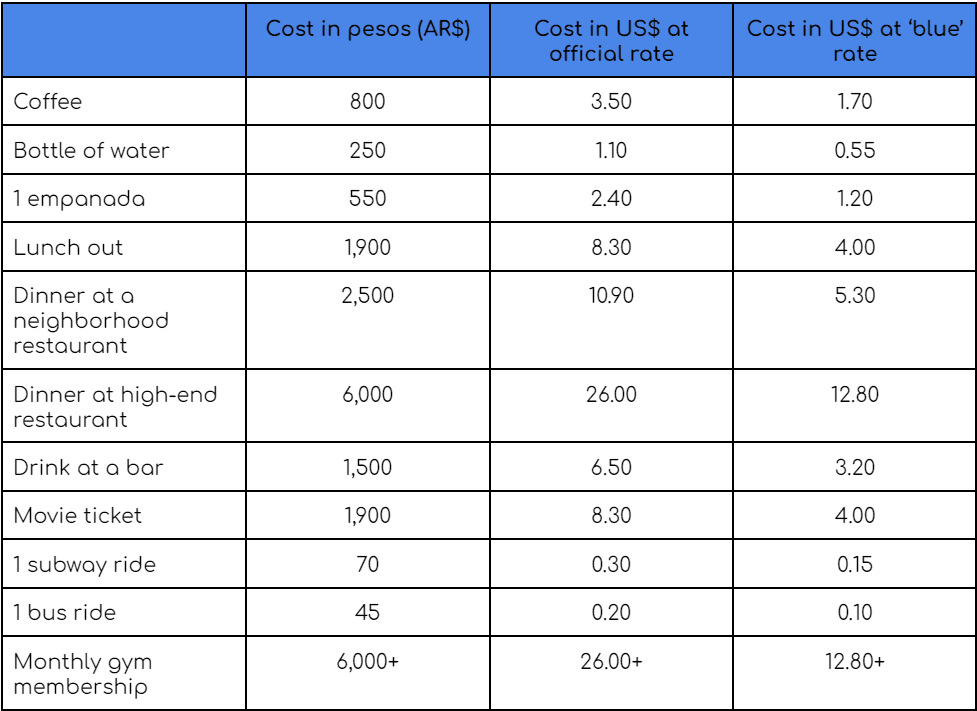 Tips for making your money go further in Argentina
Avoid using ATMs or paying with bank cards: In both of these cases you'll be charged at the official exchange rate (or slightly worse) and likely face bank fees. In addition, daily cash withdrawal limits at ATMs are low, so you'd need to be using them a lot to cover your basic spending needs, paying fees each time.

Bring dollars/euros in cash and change at blue rate: This is a legal gray area and may sound risky to some. However, it's the norm for many locals and foreigners in Argentina. You can see black market exchange operators in plain view on busy streets and the dólar blue rate is published in daily newspapers. The underground exchange houses are known as 'cuevas' and the dealers 'arbolitos' – it's best to ask people who already use the market to recommend a reputable place. If you don't know anyone, hotels and tourism operators can usually offer advice. Note that foreign arrivals are legally allowed to bring up to US$10,000 in cash (or equivalent in other currencies) into the country without declaring it.

BONUS TIP: Most likely, you will only be able to exchange US dollars, euros or (sometimes) Brazilian reais on the unofficial currency market. It's best to bring larger bills (US$100) – smaller bills (US$20 or below) will likely yield lower exchange rates. Always keep your cash in a safe place and if possible go with someone you trust when exchanging money.

Use a money transfer service: A useful option if you are already in Argentina, would rather not carry large sums of cash or just feel uneasy about using the unofficial market. Some electronic money transfer services offer an exchange rate that's a lot more 'blue' than official. In a few clicks online or in a mobile app you can send money from your bank account overseas and go pick up the cash in pesos in a local branch. Some options include Azimo, WorldRemit , Remitly and Western Union, which has an office on the same block as our Expanish school in Buenos Aires.

NEW! Use your foreign debit/credit card: Since late-2022 Argentina has offered an exclusive and favourable exchange rate for tourists using a foreign debit or credit card. It's not quite the "blue" rate, but it's similar (around 430 pesos per US dollar as of May 2023) and it means you can avoid carrying around large sums of cash. This program is implemented by the credit card companies themselves, so the exact process will depend on which you use. In some cases your purchase will be processed directly at the favourable exchange rate (e.g. with Visa), in others you will initially be charged at the official exchange rate and then the credit card company will reimburse you the difference a few days later (e.g. with Mastercard). Note that this currently only applies to purchases made with a foreign bank card, not cash withdrawals from an ATM machine.
Whichever method you use to receive pesos, try to calculate how much you need to spend before converting your money. You don't want to end up holding lots of extra pesos in cash at the end of your trip – they will be difficult to exchange in the US or Europe and may lose value over time.
The low cost of living makes this a great time to visit Argentina. If you´re interested in learning Spanish in Buenos Aires, you can get in touch with us at Expanish for more information.
DISCLAIMER: This is an informative guide, based on available information from official government and other sources. It does not offer any rights or guarantees. Rules can change over time, and vary in different countries or regions, so always check information and requirements with official sources.