6 Incredible Ways Living in a Homestay Shapes Your Study Abroad Experience
So you've made the exciting decision to study Spanish abroad, but you now have to figure out where you're going to be staying whilst abroad. When it comes to studying abroad, there are dozens of different living options for students of all ages. We recommend that if students want to achieve the fully immersive experience and maximize their language learning, they should consider living in a homestay an absolute must. There are countless advantages of living in a homestay while studying Spanish abroad, but if you're still on the fence about it, consider the following ways that living with a host family can enhance your study abroad experience.
Being Bold and Getting Out of Your Comfort Zone
It's no secret that when it comes to language learning, full immersion is the most effective way to master new language skills. Living in a homestay while studying abroad complements the immersive experience by increasing the opportunity for language practice through daily conversation. Your host family oftentimes will not speak your native tongue, and your only communication option is to use your Spanish language skills.
So for those of you who are night owls, yes, this means you'll have to practice your Spanish before you've had your morning coffee, or when you've come home from a long day of exploring the city. It's in these moments when you're completely forced out of your comfort zone that your language skills truly grow. Plus, host families are accustomed to living with new language learners and are more than happy to help you practice your Spanish skills in a comfortable environment.
Experiencing Local Customs and Traditions
Living with a host family is a great opportunity to learn about local customs you wouldn't necessarily experience on your own. Living with a host family means you'll be able to celebrate local holidays, family birthdays, and cook traditional meals at home. Host families are always extremely eager to share their culture with their students and will gladly explain traditions or customs if you ask.
Living in a homestay provides you with the perfect opportunity to learn about a particular holiday or finally understand why you're not supposed to stir the bombilla when sharing mate. Take advantage of the opportunity to experience firsthand the local culture with your host family, you might even get a secret family recipe to take home and share with your family.
Constant, Engaging Spanish Learning
Living in a homestay while studying Spanish is like having a second intensive Spanish class with your own "in-home" instructor. Spanish learning doesn't have to end when you leave class, take what you've learned in class and practice at home. Practicing Spanish with your host family is the perfect time to ask questions about words you don't understand, and an excellent way to learn lunfardo or slang.
Having All the Comforts of Home
Moving abroad to study Spanish is a big decision. You're leaving your home and its comforts behind to settle into a new culture and new city. It's a huge change! Living in a homestay can help lessen the culture shock and provide a new, comfortable space to be whilst abroad. There's comfort in knowing that after a long day of class and exploring the city, you can come home to a home-cooked meal and people who are anxious to hear about your day. Whether it be watching the news with your host family or helping cook dinner, having a host family to share your life abroad with can cure any feelings of homesickness!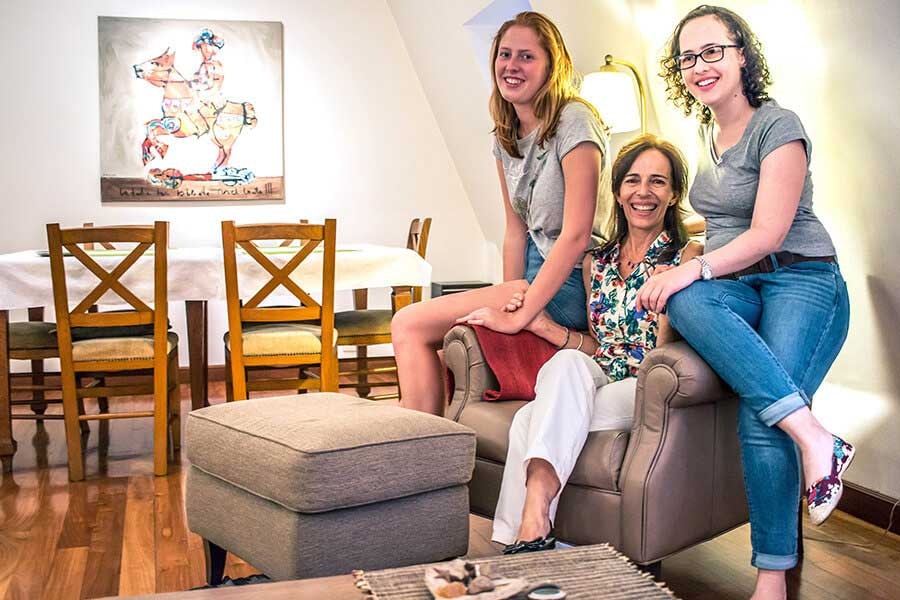 Someone Will Always Have Your Back
In addition to having the comforts of a family to come home to, you can rest easy knowing that they will have your back while you're living with them. Need to find a pharmacy? They can show you their favorite one. Don't know how to get a Subte card? They'll walk you through the process of getting one. Most importantly, they'll always be looking out for you. Host families tend to resemble your family back home, in regards to your safety and security. Your Argentine or Spanish family will be worried if you're late for dinner and don't notify them beforehand. Going abroad may seem like a scary experience, but knowing you have a local family caring for your health and safety whilst abroad tends to make the jump a little less nerve wracking.
You'll Always Have an Extended Family Abroad
One of the best parts of living in a homestay while studying Spanish abroad is the opportunity to make unforgettable memories with your host family. Even long after you return home, you can always keep in touch or send postcards. Your host family will love to hear from you as after staying with them, you will become the newest member of their family.
Staying with a host family during your time studying Spanish abroad will not only give you the complete immersion experience, it will provide you with countless opportunities to practice and improve your Spanish. After your time with your host family, you'll find it hard to say goodbye to the people who have opened up their home and their hearts to you. But don't worry! You can always return to visit!