10 Good Reasons to Study in Madrid
Acquiring a new language can indeed be a demanding yet highly rewarding endeavor. One of the most intelligent and efficient methods for learning is to apply your language skills by visiting a nation where the language is spoken officially. When you venture overseas, you'll have the opportunity to fully engage in the culture and, as a consequence, undergo personal development. Since Spanish has its origins in Spain, it serves as an excellent destination for language study.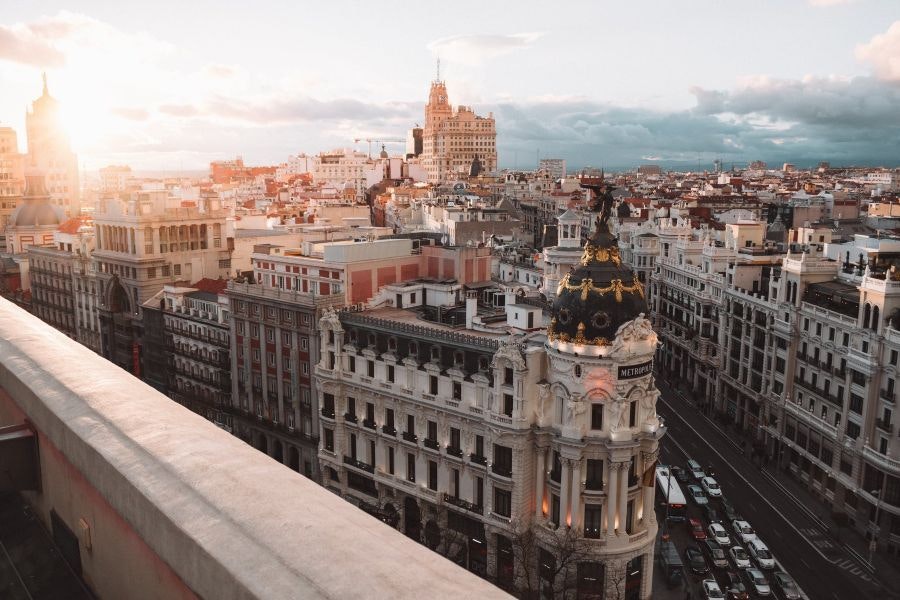 "De Madrid al cielo" goes the local saying about Spain's capital. "From Madrid to heaven". In other words, once you've lived in Madrid, there's no other place on Earth that can compete. We're pretty sure some people may politely disagree, but there's no denying the city has a lot going for it. And if you're looking for an unforgettable experience, you won't be disappointed if you come to learn Spanish in Madrid.
Why, you ask? Here are 10 good reasons:
The gateway to Spain: What better starting point in Spain than the capital, the country's largest city and seat of power. This is where the action is, where politics, finance and culture collide on noisy terrazas. Where you can experience the grandeur and the gritty within a few blocks. Madrid draws in people and goods from all corners of the country, offering visitors a taste of all of Spain's regions – quite literally, in its countless restaurants and food markets. And being in the geographical center of the country – Spain's national highways fan out in all directions from the 'kilometer zero' in Puerta del Sol – makes Madrid the perfect base for exploring this diverse country further.

A cosmopolitan hub: Speaking of diversity, Madrid is also home to a thriving international community, including a large number of overseas students. Studying here gives you the chance to make friends and share experiences with people from all over the world (as well as plenty of madrileños, of course).

Life is good: Madrid regularly features in lists of the best European cities to live in, and it probably won't take you long to see why if you come to study. Aside from the excellent architecture, museums, food and nightlife, people just know how to live here. It's also safe, easy to navigate and relatively cheap: Madrid is ranked 67th in Mercer's 2021 costs of living index, far below other European capitals like London (18th), Dublin (39th), Amsterdam (44th), and Brussels (53rd).

World-class culture: There are few cities in the world that can compete with Madrid when it comes to history, art and culture. Whether perusing Goya and Picasso masterpieces in The Prado and Reina Sofía museums (free for students at certain times!), marvelling at the Royal Palace and Plaza Mayor, or diving into the city's more modern and underground scenes, you will never be lacking for cultural activities in Madrid.

Culinary delights: Ah, the food! Eating in Madrid is a real pleasure, whether you're dining at a trendy new restaurant or gathered around a barrel in one of the city's old-school bodegones. And you're never too far away from a food market, where you can often find top produce from all over Spain and beyond. The best thing is, eating out doesn't have to be expensive, which is why so many locals do it regularly.

Sun, sun, sun: Madrid is one of Europe's sunniest capitals, giving you plenty of chances to gaze up at its famously intense blue skies. Sitting on the high Spanish meseta, Madrid is dry and sunny most of the year, though can experience extremes of hot and cold. Spring and Fall (Autumn) are usually the most pleasant times to enjoy the city's outdoor vibe. If staying during Summer you'll want to have air con in your apartment, though you could also do as the madrileños do and escape to the beach during August.

Top universities: If you're interested in studying at a Spanish university, then Madrid is home to some of the best institutions in the country and Europe. The Universidad Autónoma de Madrid (UAM) and Complutense University of Madrid are ranked the highest in the city, but there are plenty of other prestigious public and private universities offering thousands of undergraduate and masters degrees. Read more about how to get into university in Spain as an international student.

A city that never sleeps (except sometimes in the afternoon): Spain is known for its late-night socializing, and Madrid takes this to the next level. Night owls can party on with the locals until sunrise – or beyond – and there are bars and nightclubs to suit all tastes. The counterweight to all of this after-dark energy is the afternoon siesta. While central Madrid doesn't really shut down like other parts of Spain, you can still take advantage of the post-lunch lull to recharge your batteries.

An interesting mix of barrios: Madrid has 21 districts, which subdivide into more than 130 neighborhoods (barrios) with distinct features and character. You have the historic La Latina, fashionable Malasaña, upmarket Salamanca, lively and LGTB friendly Chueca, museum-heavy Retiro and much, much more. The good news is that it's easy to explore most of these central areas on foot, so get walking and see which neighbourhood feels right for you.

Easy day trips: When you do have the urge to get out of the big city, there are plenty of incredible places that are just a short train or bus ride away. Toledo – a historic capital of Spain on two occasions – and the fairytale-esque Segovia are among the most popular day trips, as are the UNESCO World Heritage sites San Lorenzo de El Escorial and Alcalá de Henares. And it's only a little further to the vineyards in La Rioja or the Mediterranean beaches…
So there you have it. This is certainly not an exhaustive list – if you've spent time in Madrid and want to share other reasons why it's a good place to study Spanish, get in touch and let us know! And if reading this already has you dreaming of tapas in the sun, then we'd love to hear from you.
DISCLAIMER: This is an informative guide, based on available information from official government and other sources. It does not offer any rights or guarantees. Rules can change over time, and vary in different countries or regions, so always check information and requirements with official sources.