Learning Spanish for Beginners
So, you're interested in learning Spanish, right? Well, you've come to the right place! At Expanish we welcome beginners every single week, so finding the right teaching method for new Spanish learners is what we do best. In this article, we'll briefly explore the communicative language teaching approach, and explain why it is best for any level of language learner. We'll also share a few fun and inspiring tips to help you learn Spanish as a beginner.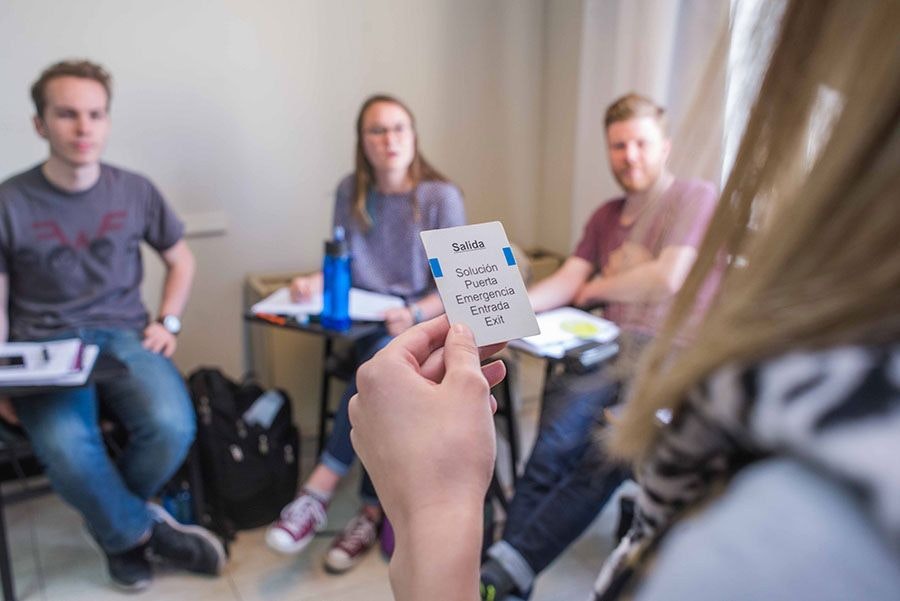 Best Teaching Method for Spanish Beginners
Even if you have ZERO experience or knowledge of Spanish and are trying to learn Spanish as a beginner you can learn how to communicate some basics with little to no effort! At Expanish, we practice the communicative language teaching method. But, what exactly does that mean for you?
The communicative language method is taught, first and foremost, by strict communication in the desired language. This means that from day one (yes, when you don't even know a word) you'll be speaking with teachers and other students in Spanish. At the end of the first class, you'll begin to pick up and use context clues to understand certain word meanings.
Our local teachers lead group discussions and inside the classroom students are only allowed to speak Spanish. We believe that everyone who comes to Expanish has the right to learn, regardless of previous knowledge. That's why we engage with all of our students in the classroom and allow each one to respond, resulting in the practice of speaking and listening in Spanish. This allows for effective learning through direct communication.
Fun tips for Learning Spanish as a Beginner
We know, we know – studying isn't always fun, but here are a few interesting ideas to get you inspired to learn:
Flash Cards – This old fashion method never seems to go out of style. Put your memorization skills to the test until the vocabulary becomes second nature!

Commonalities – Make a list of common words in Spanish and your native language. Take a look at any trends you notice and see if you can apply them to any other vocabulary.

Music – Look up Spanish covers of songs and listen to the songs. You'll have an easier time identifying vocabulary and learning grammar if you are already familiar with the original!

Food – Try cooking a meal with a recipe in Spanish. You'll solidify your learning in vocabulary as well as learn new, exciting words!

Read a Book – In Spanish of course! We recommend starting with a simple children's book, perhaps one that you've already read in your native language, so as not to get too overwhelmed.

Go to the Streets – The best way to practice your Spanish is to converse with a native speaker. Not only will you get to put your knowledge to the test, but you'll gain a little confidence along the way!
Expanish has the best intensive programs for students from beginners to advanced and everything in between. Our schools in Argentina or Spain offer a fun, information-packed learning experience that guarantees that you'll be confident after just the first day of class!
Hear from one of our Buenos Aires teachers below about what you can expect to learn on your first day!
Contact us today to learn more and begin learning Spanish.