Reasons to learn Spanish abroad in Buenos Aires
I'm sure we can all agree that learning a language in an immersive experience abroad yields faster results than in your hometown school. We're big fans of real-life application over homework. There's nothing better than heading out of class for the night and having to apply what you just learned; while eating out in a cafe, or hanging at a bar with new friends.

So you know you're ready to take the leap, but are you having difficulty deciding where to study abroad? Well, if you are eager to expand on your "hola" and "Uno dos tres", we know just the place to study Español. In this article, we will break down our favorite reasons to learn Spanish in Buenos Aires, Argentina.
Buenos Aires (the city meaning Good Air), was founded upon swampland on the Rio de la Plata river in Argentina back in 1536. What it has transformed to today is a colorful, vibrant architectural wonderland with lively people, flavorful foods, die-hard futbol fans, copious graffiti art and tango serenades in the streets, which all contributes to reasons to learn Spanish in Buenos Aires.
The city has a population of about 12 million residents and is the 8th largest country in the world. Thus creating a true melting pot of stories and characters to experience. Bueno, we won't get carried away! We'll tone down our oh so Argentine passion and share our main reasons you should consider studying here below.
Reasons to study Spanish abroad in Argentina
Tango is sexy – The passionate and fiery artform is easy to catch in the streets or at a show, making for the perfect date night or outing with your compañeros.

Yummy food – Empanadas, world class steak, dulce de leche, yerba mate, provoleta… need we say more? Please, our mouths are already drooling!

Vino (and lots of it) – Argentina is home to the Andes mountain range, where the best wine in Latin America comes from.

Patagonia anyone? – The adventurous terrains are located right in the backyard of Buenos Aires. This makes for a perfect trip after studying for hikers and nature lovers.

Historic culture – And we're talking much more than just Hollywood's Evita. Think indigenous genocide, the plague, viscous dictatorships and military occupations, etc.

Swapped seasons – If you're looking to escape winter in the northern hemisphere, we won't blame you for using the "learn Spanish abroad" during Argentina's summertime as an excuse.

It's cheap – Compared to most northern hemisphere economies, Argentina would be saving you money. From food to taxis to services to museums, your travel budget will thank you later!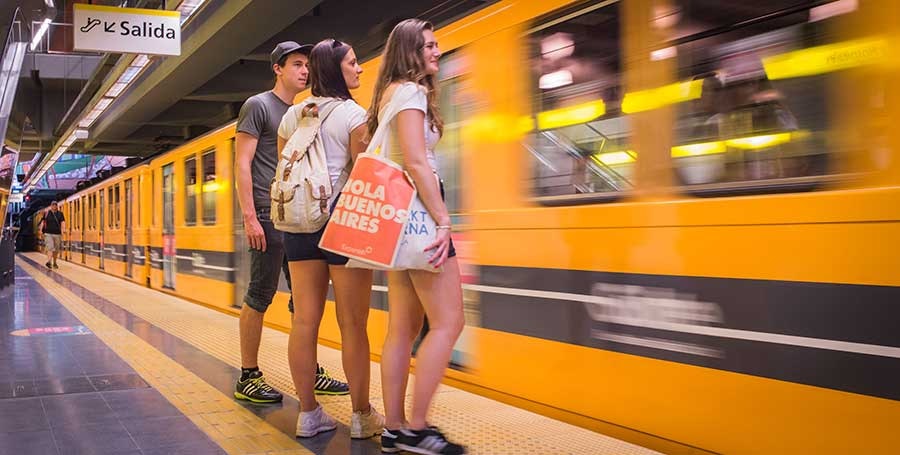 What's with the Argentine accent?
In the 1880's, around 6 million Europeans flooded into the country. Mostly from Spain and Italy, and others like Russia, France, Germany, England and Poland. These new Argentines brought their own heritage, foods, music and energy which have all influenced the culture of Buenos Aires.
This is why you will hear a different type of Spanish dialect here, which almost sounds Italian and sing-songy. These blend of cultures also explains why people hang out at cafes in the street like Parisians. In fact, Buenos Aires is even referred to as the "Paris of South America". This is another reason why we believe learning Spanish in Argentina is a unique choice.
Expanish School in Buenos Aires
If you're searching for the right program to improve your skills and are seeking passionate and knowledgeable staff, you've found what you're looking for.
Expanish Buenos Aires is located in the city center and is ready to welcome you. Whether it's for a few Spanish classes, a full study abroad program with one of our host families, or just to simply stop by and say "hola"!
We realize and greatly appreciate that leaving your country and traveling halfway across the world to learn Spanish demonstrates serious dedication. That's why we will always deliver the same dedication to our students. This means full pre-departure and arrival services, welcoming staff to help with your transition, top-notch facilities, social outings, free cultural activities, workshops and so much more.
If you're looking to travel, grow as a global citizen, experience a vibrant culture and expand your international network, then contact Expanish today. We would love to help you continue your education abroad. Un abrazo.